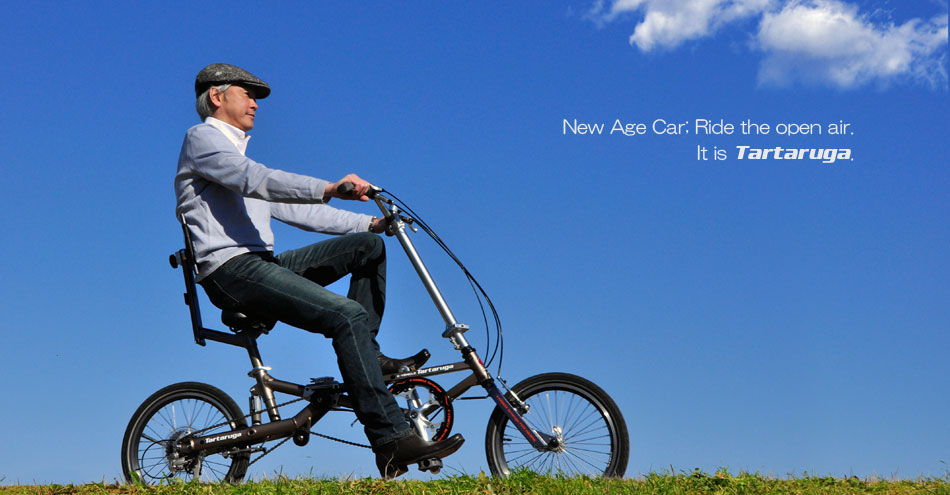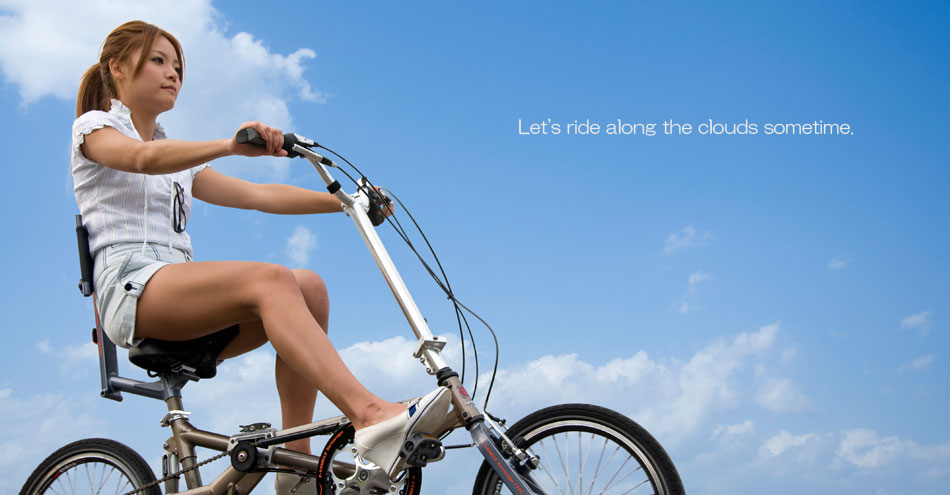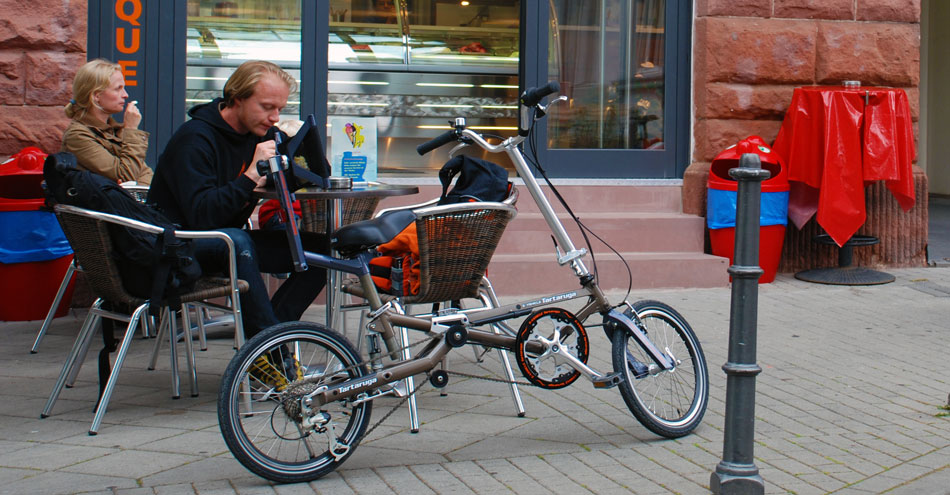 Originally launched in 2001, Type FOLDING continues to evolve reflecting the feedback from users request.
When you ride, seeing the beauty of landscapes in the pursuit of the enjoyment of pedals you experience all the small details that have been added to improve and enhance this original concept of a 'great view by pedal seeking 'Emotional' fun.
However, to truly understand the Type FOLDING 'Emotional' experience you need to take control and test ride one and feel and open car with a 'beautiful sky view'.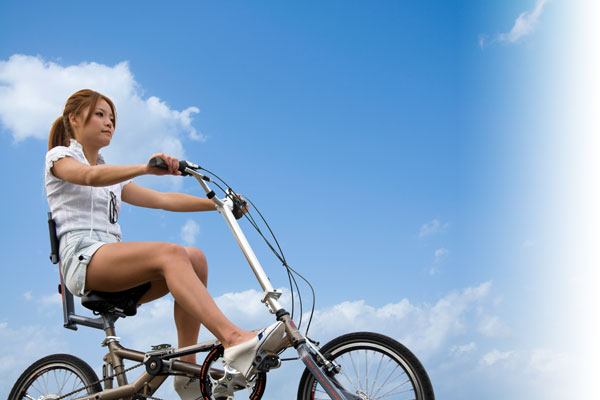 All thing for 'Emotional fun' riding feel.
This riding feel called 'It's open car what has beautiful sky view' was created by quite unique idea and tuning about very detail.
Experience a whole new feeling, like riding a canoe under a sea of the sky. A completely different riding position creating a super wide view while touring your surroundings.
Enhanced Safe and Fast ride feeling created by unique low seating position. Unique lower seating position allows for quick and sure footed placement of feet to ground. Seating position also brings the ground distance closer to riders eye for heightened speeding along feeling.
Refined handling ease through comprehensive real world test riding.
Enjoy the sense of oneness with the bicycle with your hands lightly on the handlebars and resting your back against the specialized seat back, its great handling feel will really shine through.
The riding feeling has an 'emotional fun' feeling, it feels like quit similar with the driving feeling of a high performance light weight open car.

It's also foldable.
Type FOLDING can be folded by 3 simple and easy steps.
Folding mechanism parts are made of forged aluminum, allowing them a firm sense of stiffness that results into a high quality and mechanical appearance.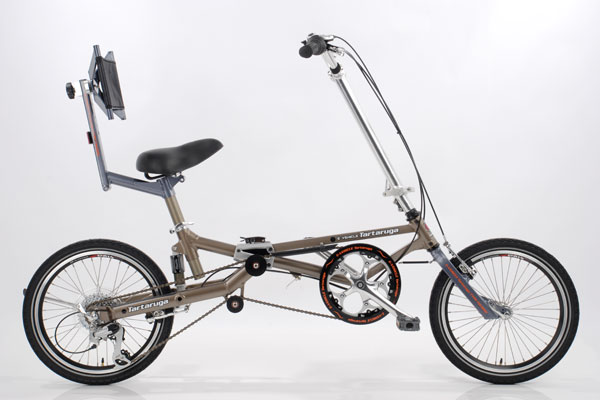 Tartaruga Type FOLDING ver.1.55
JPY162,750- (JPY155,000- without TAX)
Full Type FOLDING specification available
HERE
Optional Parts information for Type FOLDING available
HERE
.
Click
HERE
for a list of where to buy Emotional Vehicle Tartaruga from our select
'Tartaruga Maestros'
. (Sorry, it's only Japanese.)
Frame color : Euro Brown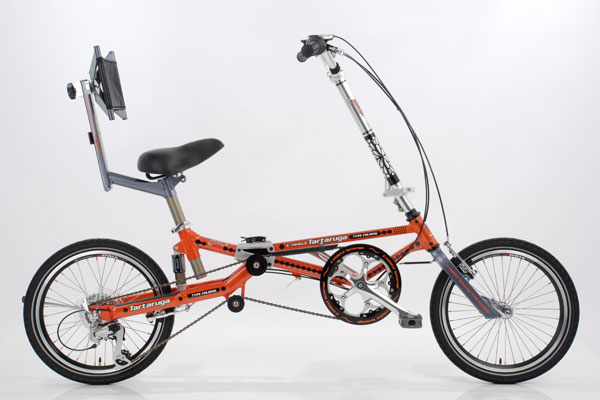 Frame color : Bomber Orange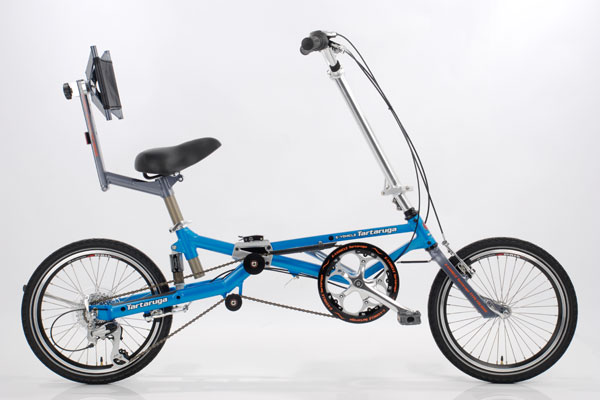 Frame color : Blue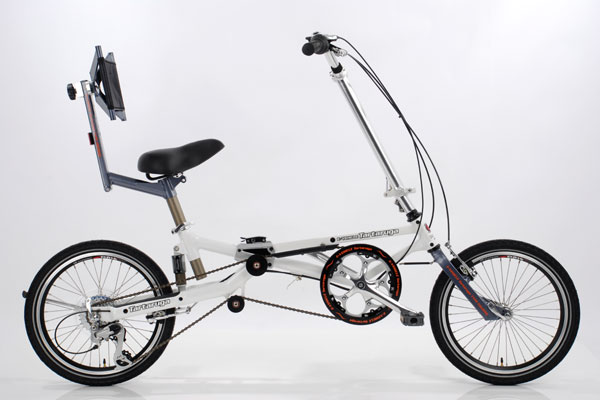 Frame color : Pearl White