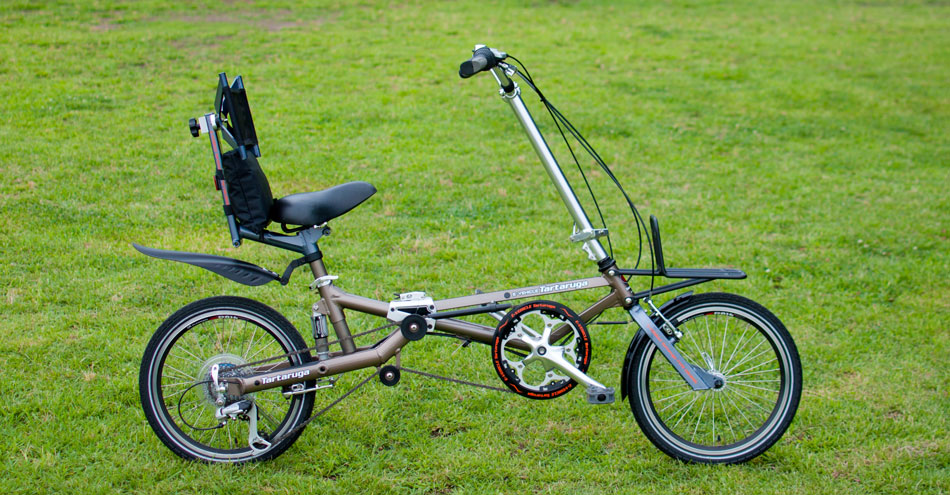 We added the original optional parts for Type FOLDING by step by step to use a lot of feedback from end users.
We designed each original optional parts to add enough practicality for daily use with unspoiled for very unique riding feel of Type FOLDING.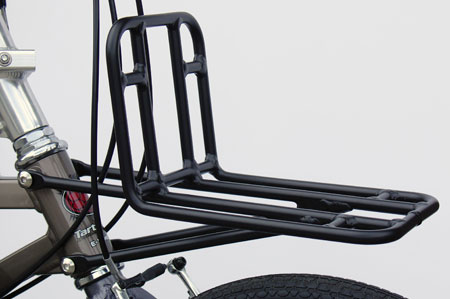 Tartaruga Type F exclusive Front carrier
JPY10,600- (without TAX)

You can install to Type F over ver.1.5 to use head tube boss.
Also you can install some basket to use this carrier.

Maximum weight 8kg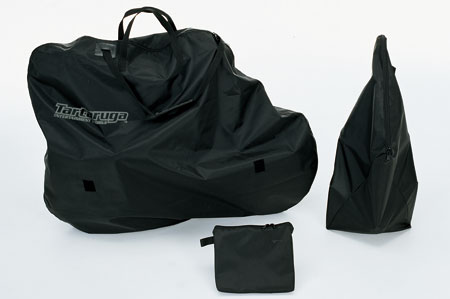 Tartaruga Type F exclusive Bike bag
JPY10,600- (without TAX)

You can carry the bike in this bag.
This bag is for Tartaruga Type F exclusive use.
It has some unique functions.

The sets have some components.
They are below:
Small pouch
Main carry bag
Seat carry bag
Strap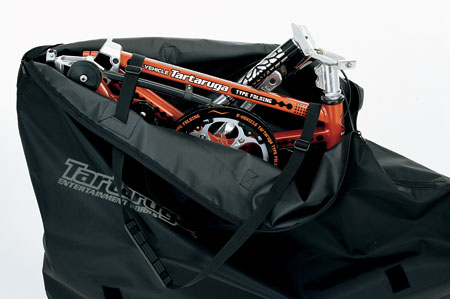 Carry mode

This mode can be carried the bike.
The bike goes into the main carry bag.
And the seat assembly goes into the seat carry bag, it can be carried as shoulder bag.
You have to thread and fasten to bike frame with strap.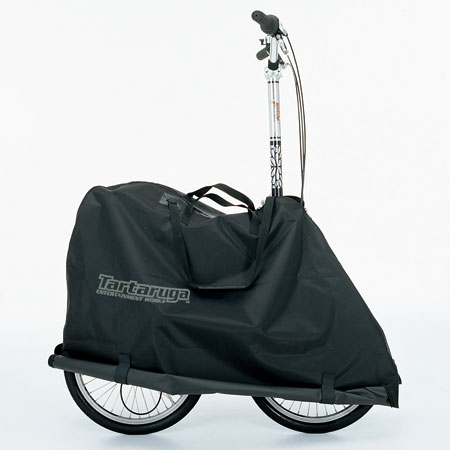 Move mode

Tartaruga Type F can be freely moved by pushing the handlebar when the main frame folded.
You can use this function when you use bike bag, we called 'Move mode'.
You can open the bottom side of bike bag to opened zipper first, and then roll up the side fabric and fixed to use the Velcro in the bag.
The tier touched to gag fabric inside, so you can only use this mode to move short distance.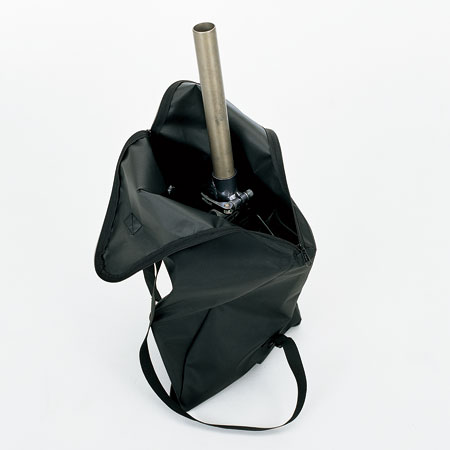 The seat assembly goes into the seat carry bag.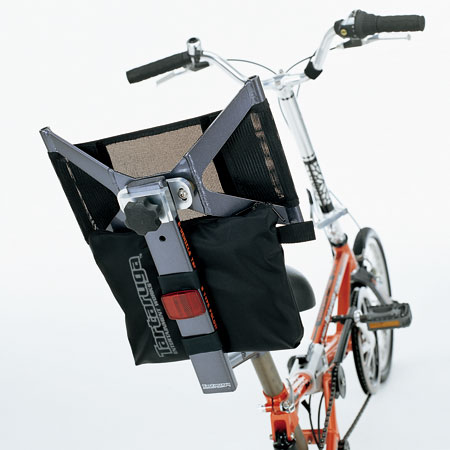 Ride mode

All components go into the small poach, it is also very compact after packing.
And also the small poach can be attached to the seat back support of Type-F by Velcro band when you ride.
Then it is worked to support your efficient pedaling also.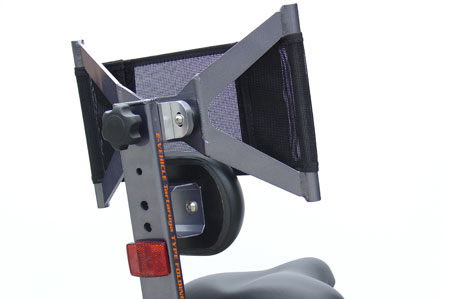 Tartaruga Type F exclusive Power support
JPY3,000- (without TAX)
Sold out

If your ride to adjust the saddle position backer, you can use this option.
You can get highly efficient pedaling when you install this part, this pad support your back boon directly.

NOTE: The original idea of this optional part came from a owner of Type F 'Mr, Ukima.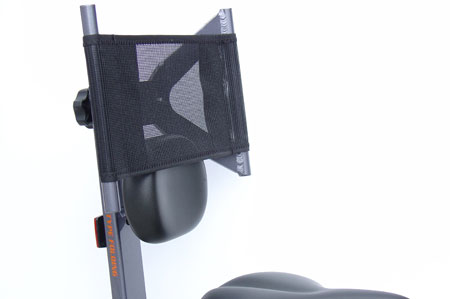 NOTE: You can not install this optional part together with Bike bag's ride mode.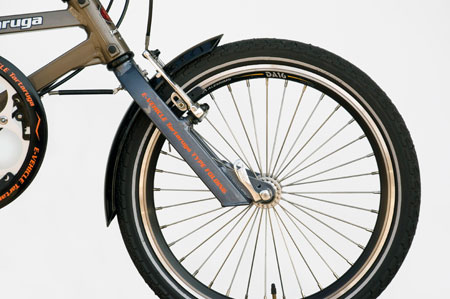 Fender set for Tartaruga Type F
JPY3,300- (without TAX)

This is fender set for Tartaruga Type FOLDING.
This is perfectly fitting for Type F when you install.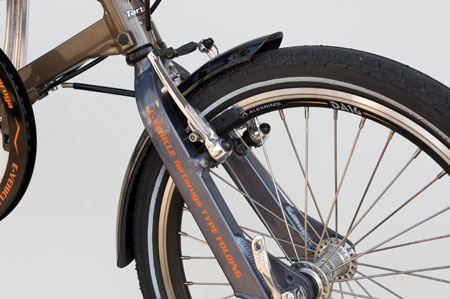 Front fender
It can be attached easily with only one screw.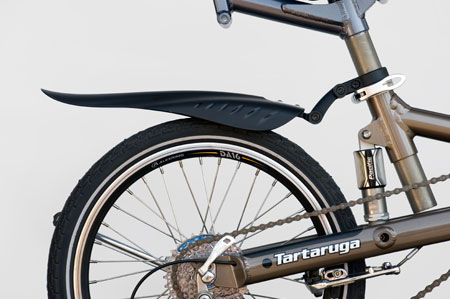 Rear fender
It can be attached or removed without using any tools.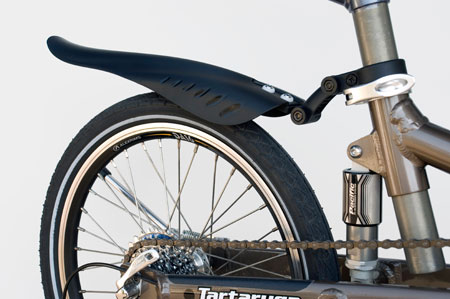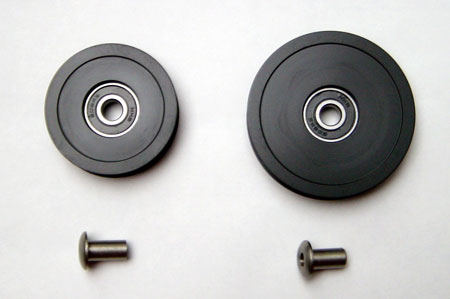 Tartaruga Type F exclusive New pulley set
JPY4,800- (without TAX)
Sold out

The option parts 'new pulley set for Tartaruga type F' can do the up-grade to the as same as 2004 model from your original pulley of the Tartaruga Type F.
It has O ring and Bearing for silent riding and also new screw attached.

NOTE: The O ring is expendables.
You have to adjust the pulley position when you change to new pulley set.