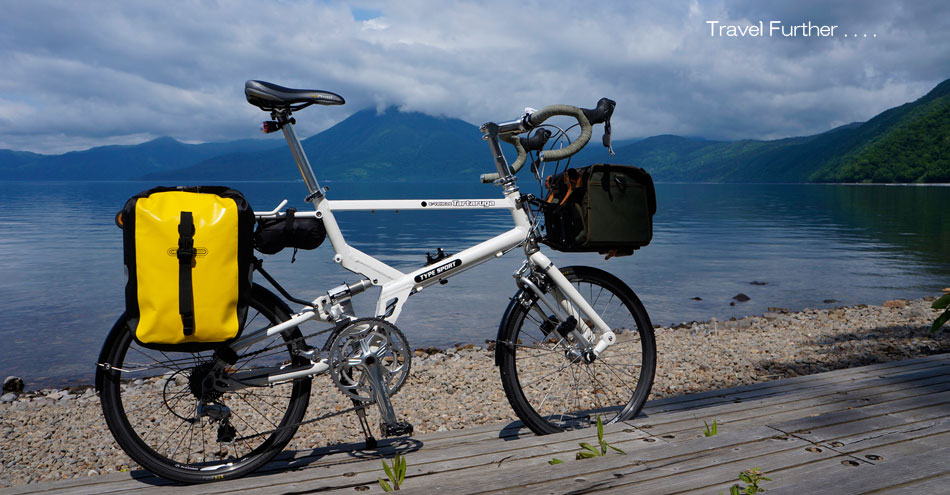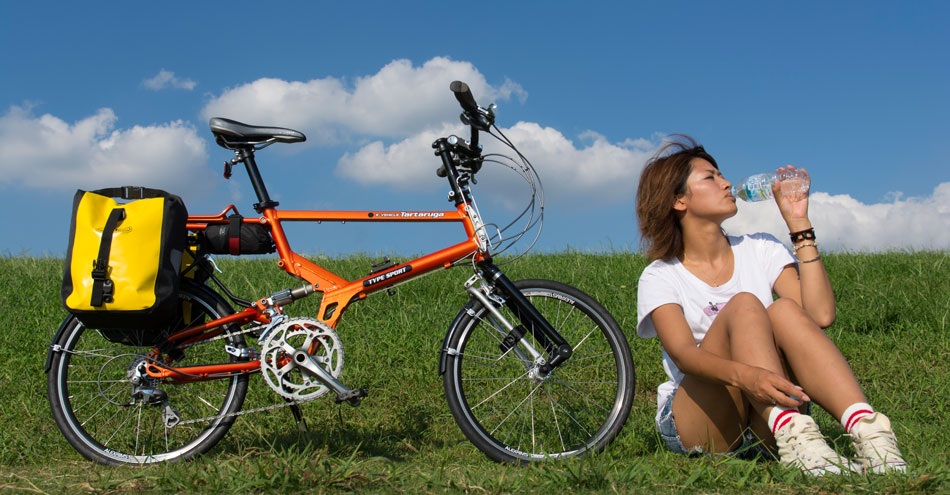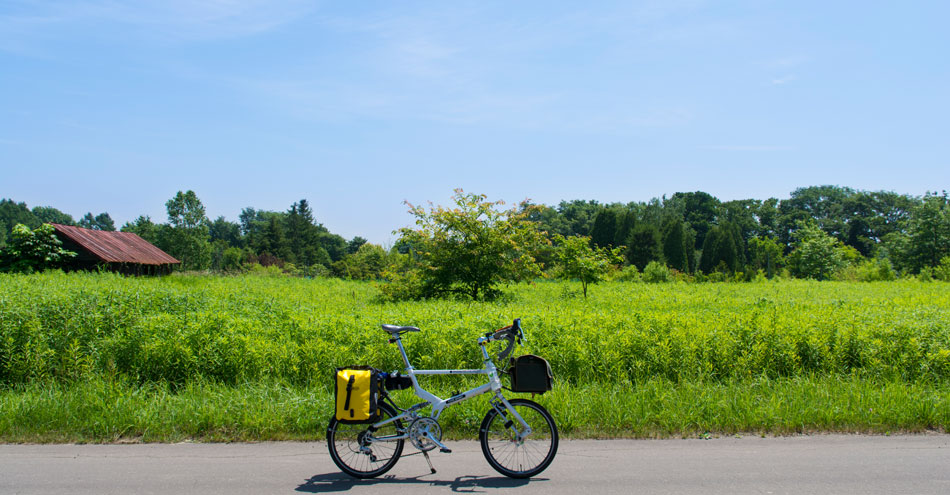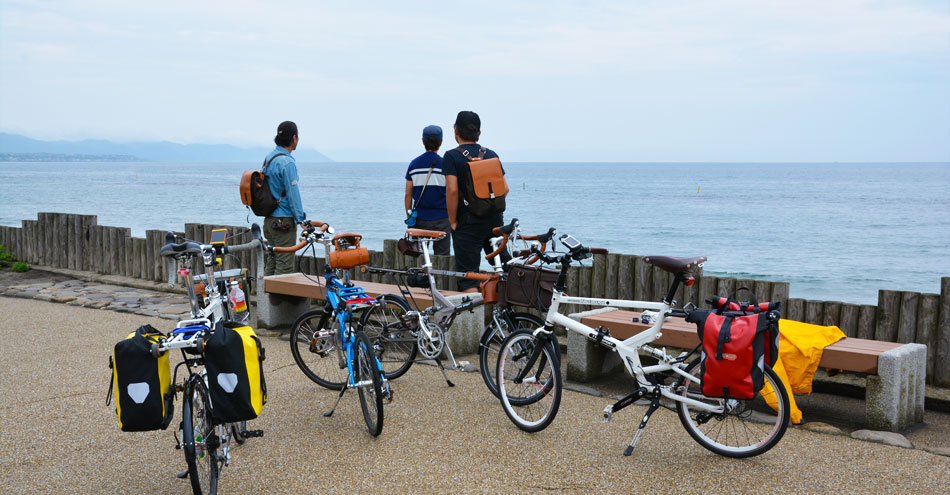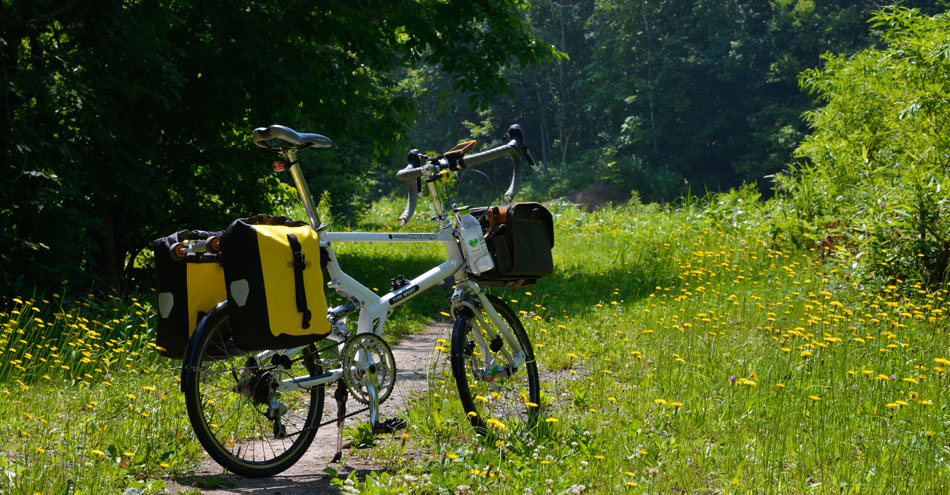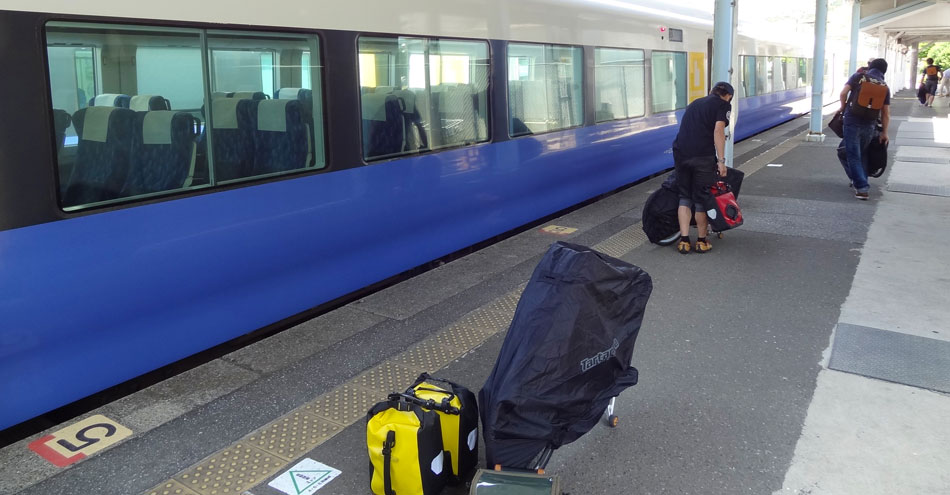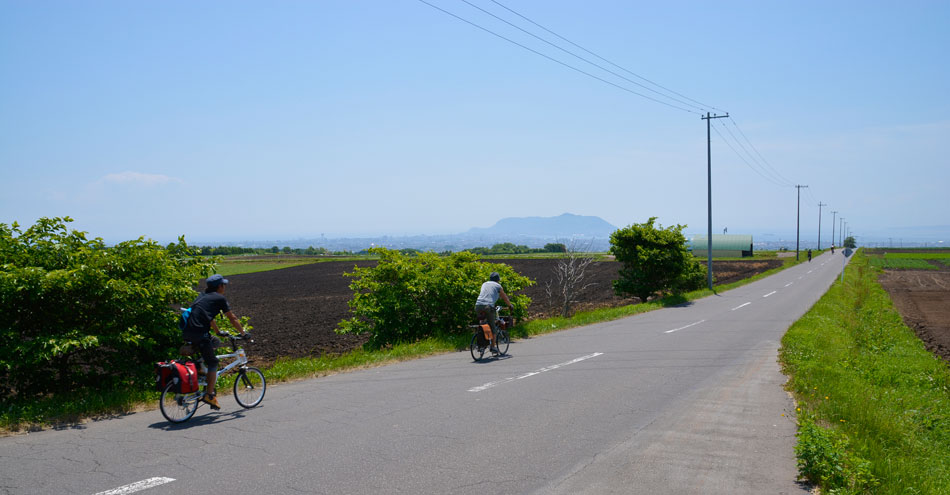 Traveling with a bike has big advantages, like flexibility, mobility, enjoyment...
The whole journey by bike is fun, however in combination with other transportation like train, airplane, and/or bus for longer distances extends your adventure and experience. We call this style 'Rinko'.
Tartaruga Type SPORT is a high performance SUV and is easily folded and stowed. Then by installing the 'Easy folding adapter' and 'Easy roller', Tartaruga Type SPORT is the best partner if you want to go 'Rinko'.
The original 'Rinko' travels were fun, however it was not very easy for everyone to drag bicycles in and out other transport, especially beginners. We analyzed many aspects of original 'Rinko' and identified the difficulties and created solutions for these points.
And now, if you take Tartaruga Type SPORT out for a 'Rinko', your excursion turns into 'Really Easy Rinko'. The feedback it is being said: 'This is a great experience!' after they try 'Rinko' with a Tartaruga Type SPORT.
We really recommend trying 'Really Easy Rinko' with Tartaruga Type SPORT!
It's your turn now!!

NOTE: The train station staff have final judgment about train 'Rinko' whether it is available to bring your bike into the train or not.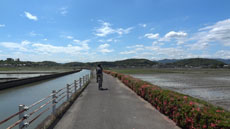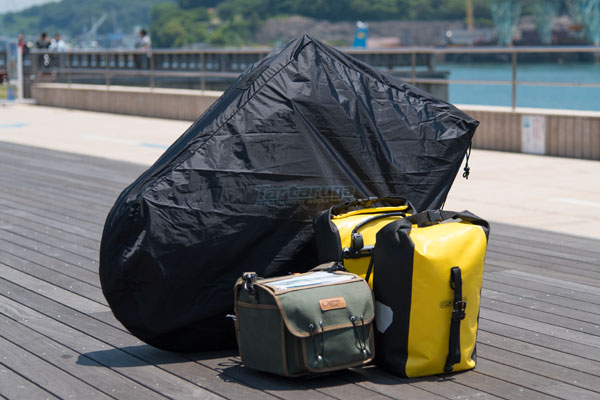 The important point about the bike when you try to do 'Rinko'.
If you start a 'Rinko' adventure with a folding bike it becomes more convenient than a road racer or cross bike. We believe there are 3 important points when you try 'Rinko' and take a folding bike.
- How easy can it be handled when it is folded?
- How much load carrying capacity for stuff is it capable?
- How nice is the riding performance of the bike?

- How easy can it be handled when it is folded?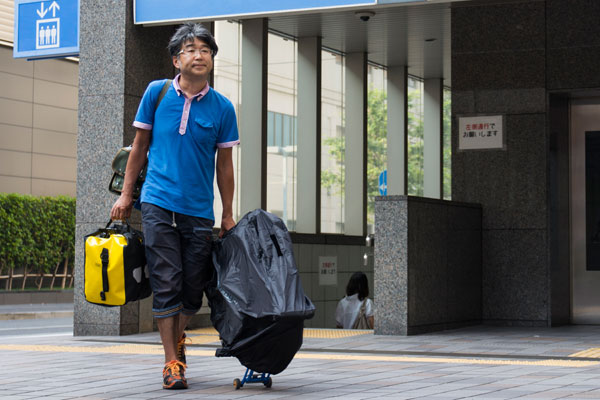 We think the portability of a packed bike is the most important detail.
The basic approach of original 'Rinko' was making the bike weight as light as possible ease and then use a shoulder strap to carry the bike.
Then combine with a carry bag while traveling.
There are a few folding bikes available that are light to lift but not well suited to carrying repeatedly throughout a long journey over your shoulder.
This makes you start to think: 'this is actually heavy to hang off your shoulder.'
So with this situation in mind we wanted a travel case to wheel along in style and ease.
With our 'Easy folding adapter and 'Easy roller', Tartaruga Type SPORT becomes a welcomed companion.
- How much load carrying capacity for stuff is it capable?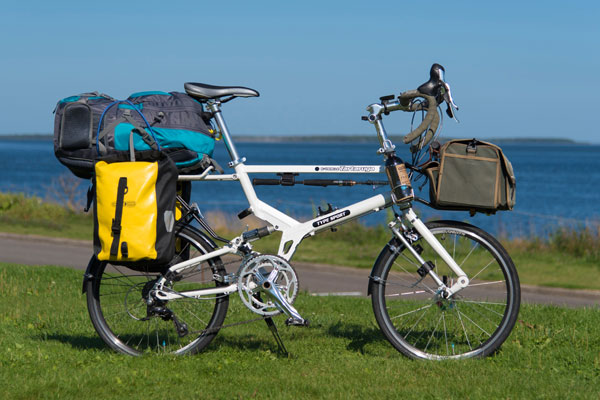 At Tartaruga, we developed the Type SPORT with its focus on being the SUV of bikes with its basic configuration being ready for carrying capacity.
Normally, people travel with a full backpack and when riding the body has extra fatigue from the added weight in the seated position. Additionally, the backpack against the rider cannot provide ventilation and heats the riders body and excess sweating. This is really an uncomfortable situation.
By adding a rear rack, a backpack can be secured to the platform and additional side bag panniers can be added. Our exclusive optional 'Rear Carrier' can be easily added freeing the rider and all these stresses to the body are gone.
We also have a custom 'Front Carrier B' that can be added to a front bag storage point.
Traditionally a front bag is installed to the handlebar but with its added weight it affect the steering precision and ride feel. Our unique 'Front carrier B' for Tartaruga Type SPORT is installed to main frame. This is good for continued stable handling with a loaded bag of stuff and allows quick access to things like your SLR camera while on your 'Rinko'.
When adding our 'Front Carrier Adapter', you can remove front bag with 'Front carrier B' easily by QR.
Tartaruga Type SPORT is ideal for adding carrying luggage to the rear and or front because our frame features small wheels allowing for lower positioning of the bags for a lower center of gravity.
- How nice is the riding performance of the bike?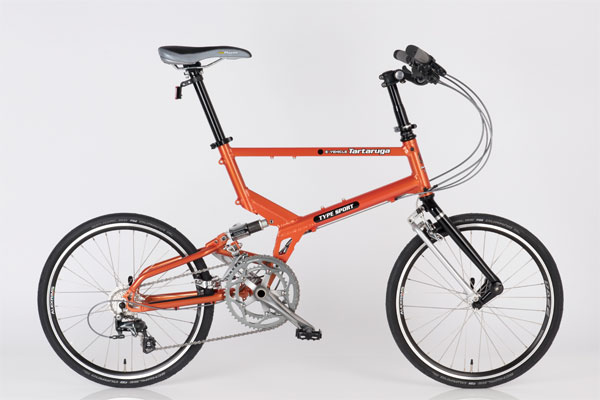 We use a very unique and original suspension system for the rear and front for vibration damping creating a stylish and rigid alloy frame with a soft ride. Type S features high pressure fast rolling 20 inch (451) wheels and has fit and speed performance similar to a full sized bicycle. It is light, fast and folds! That's why all peoples surprise after they try to test ride Type S.
Many peoples said 'Tartaruga Type SPORT has so many nice exclusive optional parts.' Yes its truth, but these options work well because on base Type SPORT's rides quality as the Vehicle.

And also this rides quality work well for restrain the fatigue after long ride.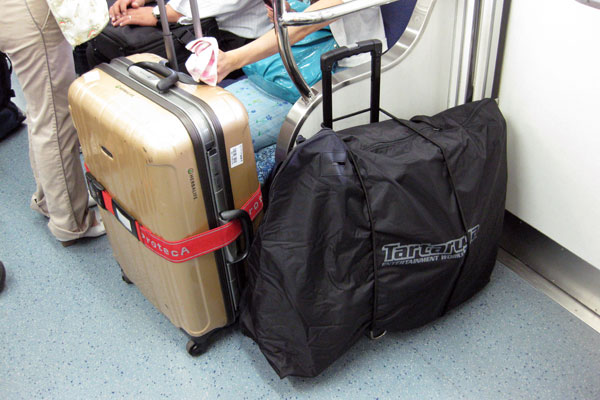 Other advantages taking Type SPORT for 'Rinko'.

Good size and concept
Tartaruga Type SPORT can be folded by two different styles, 'Full folding' is making compact removed the front and rear wheels and some parts, 'Easy folding' is quick and easy removed front wheel and handle bare. You can pick the best one for each situation.

If you want to make compact when you fold, you can pick 'Full fold' the Type S and pack to 'Bike bag for Type S'. You can carry to use strap like original 'Rinko', or you can carry easily when you use Type S exclusive 'Carry cart' with.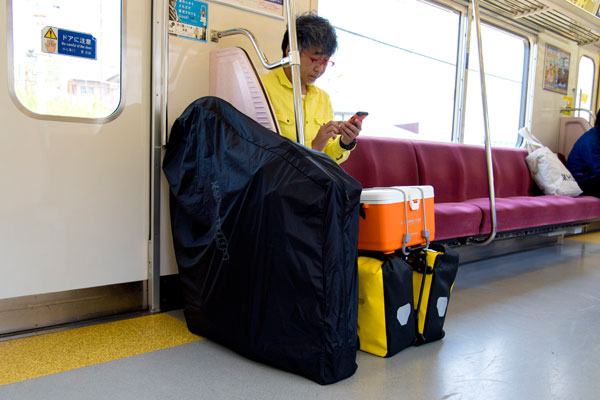 The side view of 'Easy folding' is slightly looks big.
However the top view is very thin, the width is only 36cm. Actually, this width is very important for 'Rinko'.

For example, It's the most popular 'Rinko' style which taking the local train, you can see the handrail both side when the train arrive and door opened.
You can see also small space there between handrail and sidewall of bench seat of train.
You can use this small space for easy folding Type SPORT, it just rotated Type SPORT to touch the ground rear side of saddle, and the rear wheel come into between handrail and sidewall.
The handrail can be helped to keep standing by stable if train shakes, also the depth is almost same as you have seat.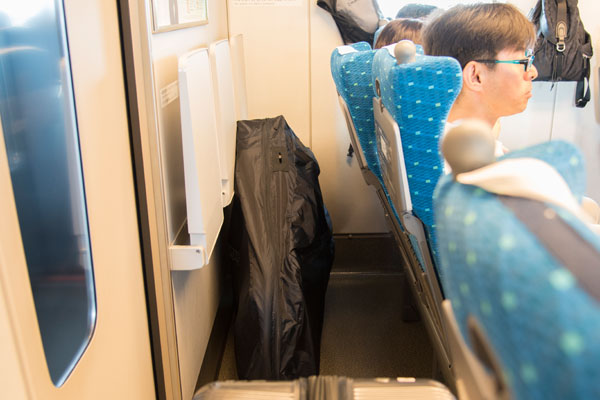 When you take high speed train to go to 'Rinko', you can put 2 'Easy folding' Type SPORT to the space between seat and car end wall for each car.
Actually, this space is very popular. So if someone put a baggage to there, you still have chance to put your 'Easy folding' Type SPORT to there. In that case, you just push to roll to forward if you installed 'Easy Roller' to Type S.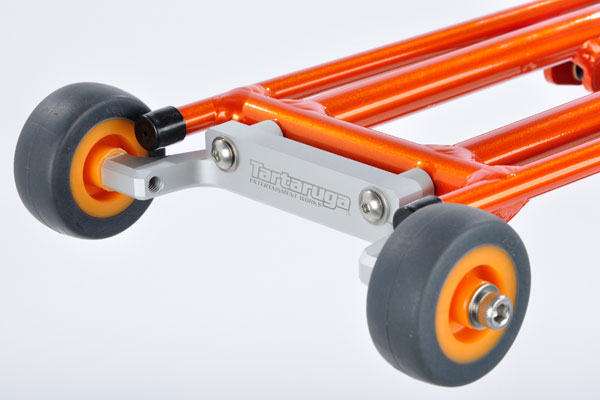 Stability when you rolling
Now, you can see some other folding bike can be rolled after folding. But some customer who use these other bike said 'This is really stable to roll!!' after try to roll Type SPORT with 'Easy roller'.
Normally, other folding bike what can be rolled after folding has small wheel of inline skater what has bearing.
This kind of wheel can be rolled very smoothly, however it's also very bumpy.
So if you roll very flat floor, it is quite smoothly move. But if you have to roll rough floor, it turns to very bumpy.
'Easy roller' has special wheel, it likes suspension wheel. It can be reduced the bump, so make smooth actually.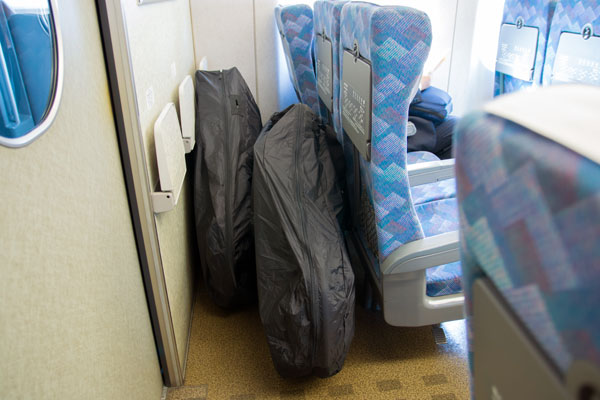 Traveling with Type S by train


When you take High speed train with Type SPORT, you can put 2 'Easy folding' Type SPORT to the space between seat and car end wall for each car.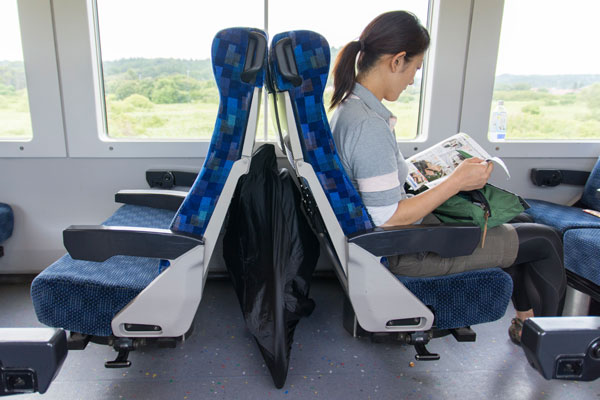 When you take arrange able seat train, you can put 'Easy folding' Type SPORT between seat and seat.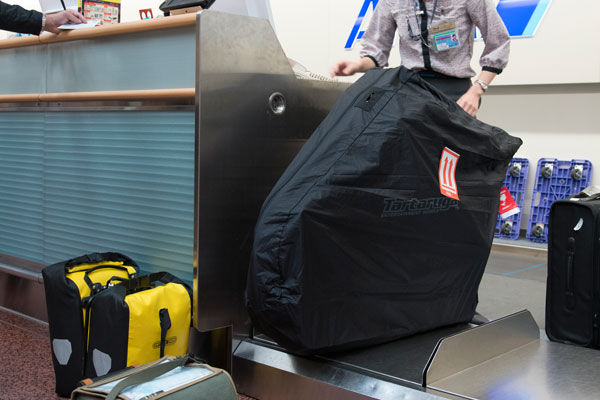 Traveling with Type S by Airplain


NOTE : Only for domestic flight
Some flight cannot accept to carry bike, especially small Airplane. Please ask to your flight company before you take.

When you take Airplane you must check in your luggage in check in counter, also you must be accepted that no any warranty if the bike get damage.

You can check in with 'Easy fold' Type SPORT.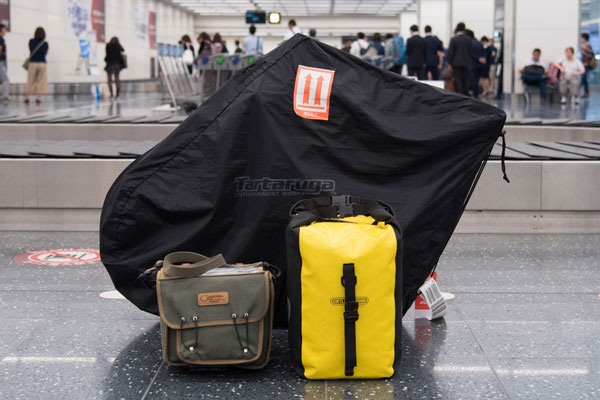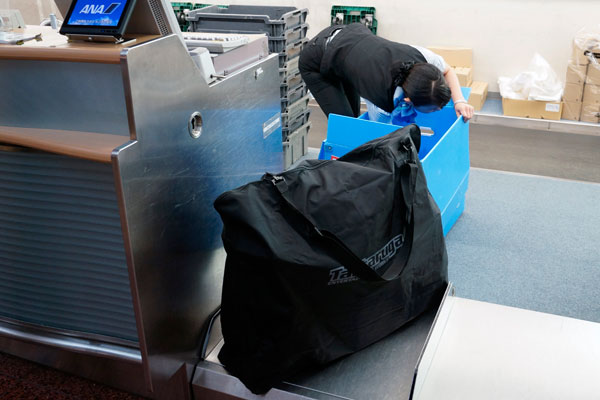 If you take ANA, they have foldable large hard case and you can use by free of charge.
'Full folding' Type S can be pack to this hard case.
Please ask to ANA staff when you check in.
If you take this hard case, it is much safety!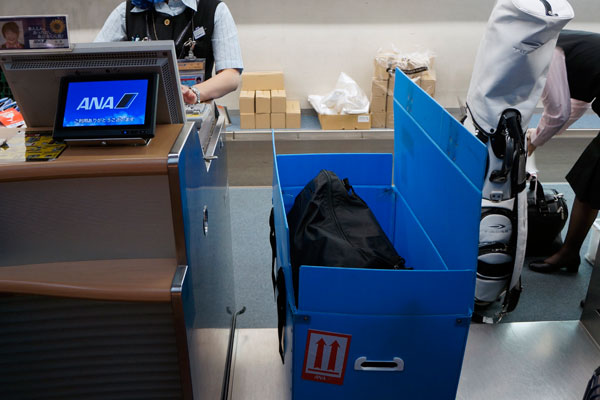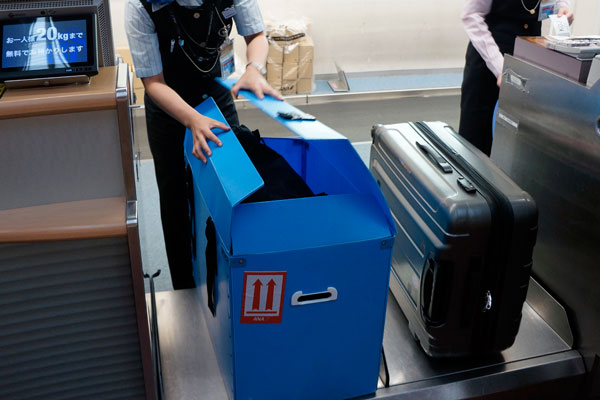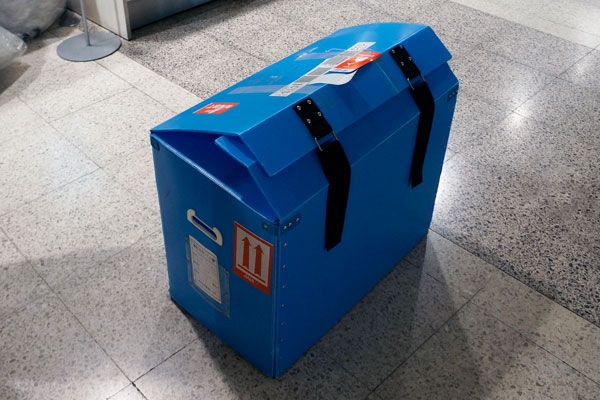 Baggage claim in arrived airport.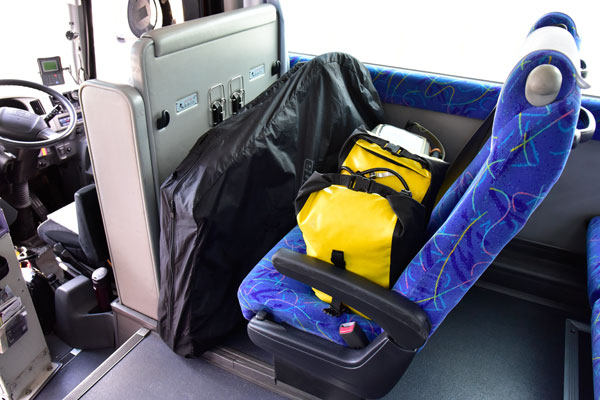 Traveling with Type SPORT by bus


Most of high way bus company cannot accept to bring bike with.
Some bus companies still accept, so please ask to Bus Company direct.
Almost Airport limousine bus can accept that.
Basically, you have to put your bike to cargo space in the bus, but some empty bus, bus driver accept to carry you bike customer space.